09/10/2007 : The new figs are there
A big packet of 21kg has just arrived.
Stocks are full and the
new figs are available
on our website.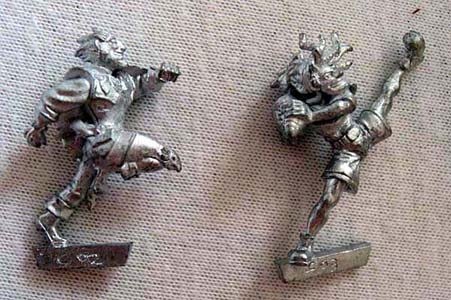 More infos and pictures on the workshop page
07/08/2007 : 5 new minis are coming by the end of summer 2007
While you are at the beach the goblins are working hard to produce the minis you like.
So coming in September we will have :
a new cheerleader : Tiger Foozia
a funny goblin : Wondervince
a werewolf : Big Bad Woofie
a human running back : Johnny nice face
a human quarterback : Mamadoo Moon
20/02/2007 : Everything seems now to work fine with Paypal
If you notice something or if you experience some trouble, don't hesitate to contact us. We will try to solve your problem quickly.
20/02/2007 : We are experiencing some problems with the Paypal solution
We are currently working to fix this issue so that you will be able to order and pay quickly. Sorry for the disturbance.

18/02/2007 : The new figs are there (and the plastic bases also!)
Available for sell we have :
Kigloo the big bad dwarf (a solid dwarf middle linebacker)
Tankred the destructor and Amoree the speedster. 2 superbs centaures who will run on the pitch like nobody else.
Sami the cheerleader, a beautiful woman with insane boobs!
All those minis are in white metal with a plastic round base.
And last but not least, you have been numerous to ask for his come back, so we have King Phanos the running goblin alone and in white metal.
12/02/2007 : New figs coming very soon!...
The centaurs, tha dwarf and the pom pom girl will be available soon . The figs are there but we are still waiting for the plastic bases!
15/01/2007 : Chris Raab is back!
The goblin referee is also available again.
29/09/2006 : Good news for all her fans
50 new Micheline has just arrived and are available for sell.
25/09/2006 : Legend from the West : 3 Trinita Bros
Buddy Trinita
The hero fighter, surly and bearded with a golden heart
Errance Trinita
The handsome boy, the defendant of the widow and the orphan
Luc Trinita
The fortunate and fast upholder of the law
05/09/2006 : Belisama : Pirates & Far West
A new brand of resin miniatures 28 mm has just appeared on our site. Its name is Belisama (the Celtic goddess of forges). These new references are proposed by Patrick de Frères d'Armes. (A skirmish game available in English)
There will be a range of pirates (traders, French pirates, Spanish garrison, Barbary Coast pirates) and a series on the legends of Far West going from the solitary upholder of the law to the karate Chinese. In every blister pack, there are 3 different miniatures.
Belisama is certainly going to attract the players of role playing game, the passionate persons of gamesof skirmishes, the amateurs of beautiful original figurines and naturally the fans of Frères d'Armes www.fdarmes.com
20/04/2006 : And here is the first pack of Goblin Forge
We have grouped together all the minis released in 2005 in a single pack and we have make a discount of 25 on it. As we are not big industrials, we have been able to release only 30 packs. So hurry and order one!

17/12/2005 : Two new figs are being developed
After some sort of supplying problem,

the peaceful life of Goblin Forge resumed its course. So we are proud to announce that we are currently making 2 new figs for the human race. There are also some rumors, that we are looking for a friend for Micheline who is feeling lonely on the pitch...
14/11/2005 : Micheline Tenderness is there
And you will appreciate hese rolls of fat! The painted pictures will come soon.
13/10/2005 : The new minis arrived !
They have crossed the Channel and they are now waiting for you to be happy. And don't wait too much because I know that Micheline is not very far...
21/07/2005 : Other good news
A female ogre is being prepared... Did I said that she will wear a -so called- dress?...